On February 11, Filipina beauty queen Cassandra Serdan graced the Berlin pageantry, where she was crowned Queen of Germany 2023.
Her achievement is considered a remarkable pride for the Philippines, as it was the first time in the history of the German beauty pageant that a Filipino transwoman participated and eventually won the title.
The competition hosted 16 candidates from different countries, including three Filipinos and one Fil-German beauties.
Other title holders next to Serdan are Miss Aura Germany 2023 Denisse Nicolle Ligpitan, Miss Supranational Germany 2023 Maria Ignat, and Miss Globe Germany 2023 Olha Shcherbaniuk.
Following her win, Serdan happily shared an appreciation post on her social media account where she thanked the significant people who never failed to support her when she competed for the crown.
Serdan also expressed her joy at being able to show her uniqueness as an individual during the competition, claiming that it was indeed a challenging experience but also a moment of pride as the first ever Queen of Germany.
"Competing with lovely women with their unique stories and amazing personalities was really a challenge but thank God the stars aligned to me and I won the pageant," she wrote.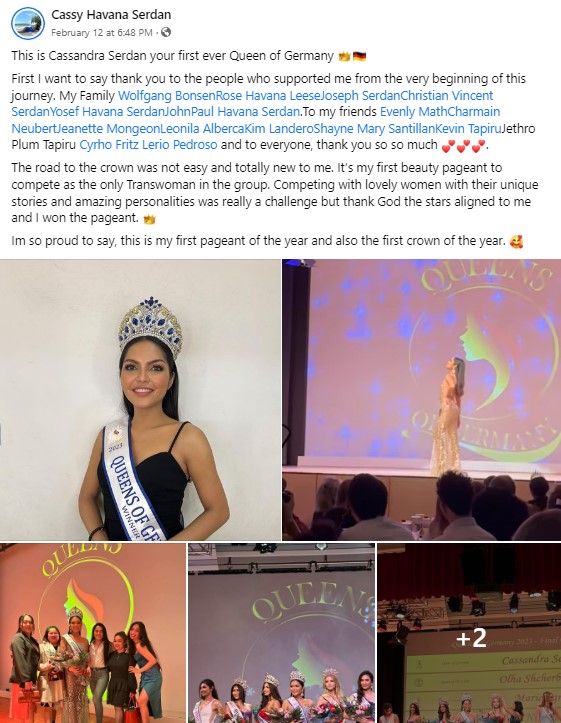 As a beauty titleist, Serdan will also receive several benefits that include free airplane tickets, makeup tutorial sessions, a selection of outfits and costumes for her international competitions, as well as professional beauty training courses supervised by the pageant's organizers.
Indeed, Serdan's winning moment does not only serve as a testimony for Philippine talent, but it also showcases the beauty that is seen within people's diversity and how this kind of uniqueness is celebrated on different platforms, which further promotes inclusivity and a sense of belongingness.
Photo Credit:
https://www.facebook.com/cesarian.serdan